Enhancing Your Life and Recovery with
Yoga for the 12 Steps
I have created a beautiful program for everyone!  Curious?? I will be offering this program – Yoga for 12 Step Recovery- in a 12 week format in groups of 3 or more beginning in Late Fall 2018. Also, available one-to-one coaching with me over FaceTime or Skype.  If you are interested in joining one please e-mail me for pricing and schedule. There are no prerequisites. Enhance your recovery – begin your recovery journey – curious how the 12 Steps of Recovery + Yoga can work in your life? Yoga for 12 Step Recovery welcomes everyone! CEUs are available!!
Here's my Story:
It's a late Sunday afternoon in August. Sunday is my day off. I try not to make ANY plans on Sunday. Just wake up and see where my heart leads me. Today I was craving a Yoga class and a 12 Step meeting. I decided to take an early morning Yoga class and attend an afternoon women's recovery meeting. It sounded like a perfect day for me. Every time I drive to the Arlington Sun and Moon Yoga studio, lots of memories surface to the early days when I was a first time student. I was seeking a place to get my body moving. I walked every day, but I wanted something more –gyms did not work for me. They were too noisy and too smelly.  The minute I walked into Sun and Moon, it felt like home. It was the same feeling I had when I walked into my first 12 Step Recovery meeting. I knew I belonged there.
In the recovery meetings I attended, I found unconditional love, people living their lives without using substances to numb, who were healing, one day at a time, sharing from their hearts their experience, strength and hope. By attending these meetings and working the 12 Steps of Recovery with a sponsor, I began to "grow up," take responsibility for my Self, my relationships with friends and family, and most importantly, reconnect my relationship with God, who I had left behind with my first drink.
I discovered Yoga at Sun and Moon 5 years into Recovery. Yoga enhanced my recovery in many ways. Here I found a place filled too, with unconditional love and lots of like-minded souls wanting to heal, grow, evolve, mindfully, physically, emotionally and spiritually.
I was feeling a lot of emotional pain in my early days of recovery – the physicality of Yoga – learning how to breathe, how to balance on one leg, that there were muscles on the top of my feet—it was brand new to me. I had been so numb on so many levels for a long time. Yoga was giving me an awareness of my body that I had never known before, an awareness that began to show itself emotionally through the postures, breathing and meditation. I released so many tears in Svansana for lots of years. So I understand completely when students come up after class and ask me if it's normal to cry in Svasana.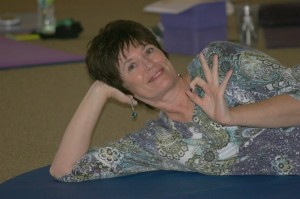 So if we fast forward through many years of recovery to Spring 2009. By this time, I had fallen in love with Yoga so much, I became certified to teach and had been teaching for many years. I was wondering why my recovery friends were not taking Yoga? When Sun and Moon studio asked me what I'd like to teach for the Spring session I asked them if I could add a class on Friday nights, called, Yoga for the 12 Steps.
My intention with this class was to guide others in recovery through their body with Yoga poses, the breath, and meditation that the Yogis so divinely created and the12 Steps of Recovery. Taking care of our physical body is not addressed in 12 step meetings. There are usually lots of caffeine and sugar served and no mention of what these might be replacing. I discovered through Yoga a more healthy way of taking care of myself. Yoga enhanced my recovery to another level of health, well-being and peace.